Video
Towel Day
"Towel Day" è un videoclip diretto da Valeria Cozzarini con le musiche di Alessandro Sbrogiò eseguite dalla Magister Espresso Orchestra diretta da Denis Feletto a celebrare in Italia il "Towel Day" (giorno dell'asciugamano), evento festeggiato il 25 maggio in tutto il mondo dagli appassionati dei libri di Douglas Adams: asciugamano in spalla, birra e noccioline, i must have in attesa della distruzione della Terra da parte dei terribili Vogons. Dall'impatto psichedelico e visionario, il videoclip è un susseguirsi di citazioni dal masterpiece di Adams "Guida galattica per gli autostoppisti", in cui gli elementi dell'immaginario ricchissimo creato dall'autore inglese si ricompongono in intersezioni e collage animati. I musicisti dell'orchestra intraprendono un viaggio galattico in vestaglia e asciugamano, a bordo di divani Chesterfield, tra delfini e teiere, cocktail spaziali e telefoni agitati. Come consiglia la guida galattica, durante il viaggio, mai farsi prendere dal panico.
Magister Espresso Orchestra è un progetto patrocinato da Doc Servizi, la prima rete di professioni che opera su piattaforma cooperativa, leader in Europa, dal 1990 la casa di chi vuole essere musicista. È una compagine orchestrale eclettica, con musicisti affermati in ambito classico, jazz, etno ed elettronico. L'intento è quello di creare un ensemble specializzato nella registrazione in studio, senza limiti di genere musicale e con una particolare predilezione per la musica sincronizzata, ad uso documentaristico e cinematografico.
Directed and animated by Valeria Cozzarini
Photography and compositing by Atej Tutta
Make up by Mariagrazia Zugno
Production assistant Elisa Bergamo
Recorded and mixed by Andrea Valfrè at Magister Recording Area
Assistant engineer Marco Vedovetto
Mastered by Simon Heyworth at Super Audio Mastering
---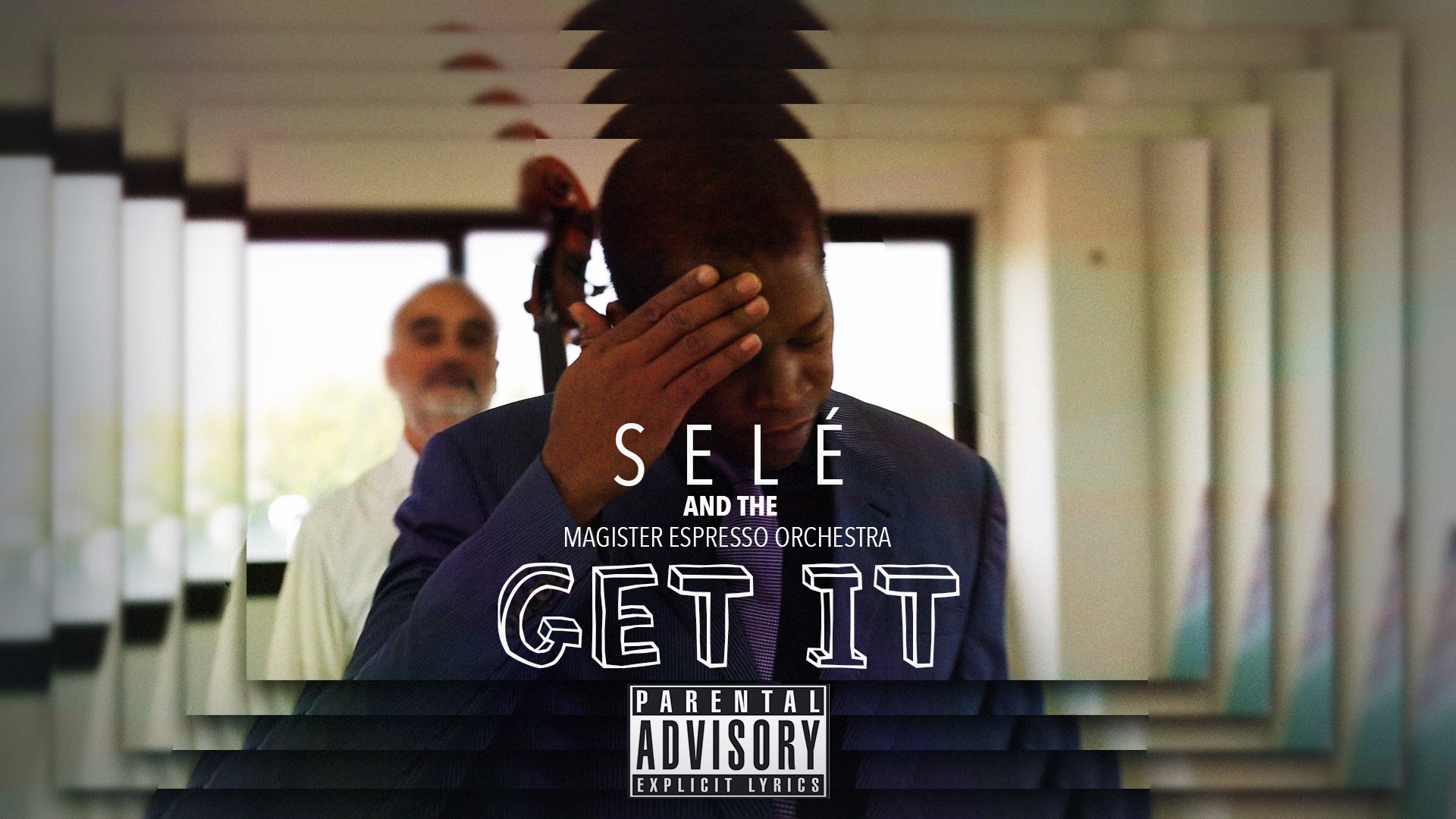 GET IT!
By Selè M'Poko & Alessandro Sbrogiò
With appearances by Selé, Alessandro Sbrogió, Andrea Valfrè, Bob Parolin, and The Magister Espresso Orchestra. Produced @ Synchro Studios. A Freecom Music Production. Ass. Cult. ART&CARE - Paintings by Paolo Pavan
---
Sabato
Magister Espresso Orchestra is specialized in studio recordings.
The ensemble can be sized according to the production requirements from quartet to chamber orchestra. Magister Espresso Orchestra is available for composers, producers and film production companies.
Orchestra musicians come from the best local orchestras, they have performed with international artists and won important music awards and can count on a great synergy due to many years spent working together.
SHARED SESSIONS
For an easy and convenient use of the orchestra, shared recording sessions are organized, so the orchestral set-up can be exploited and a smaller part of the recording session can be booked.
Moreover, wind instruments and any other instrument sessions can be booked.
Recordings are generally delivered in multitrack within 2 working days, in the requested format.
Magister Espresso Orchestra is located at Magister Recording Area in Preganziol (TV). The sound engineer is Andrea Valfrè (1 Grammy Award and 3 Latin Grammy Awards).
ORIGINAL MUSIC AND ARRANGEMENTS COMMISSION.
A team of composers, specialized in the most diverse music genres, is available for original compositions and arrangements.
Magister Espresso Orchestra
Denis Feletto, Conductor
Luca Mares, Concertmaster
Sabato
Music by Alessandro Sbrogiò
Video by Alberto Mandelli
Recorded and mixed by Andrea Valfrè at Magister Recording Area
Assistant engineer Marco Vedovetto
Mastered by Simon Heyworth at Super Audio Mastering
Directed and animated by Valeria Cozzarini
Photography and compositing by Atej Tutta
Make up by Mariagrazia Zugno
Production assistant Elisa Bergamo
Recorded and mixed by Andrea Valfrè at Magister Recording Area
Assistant engineer Marco Vedovetto
Mastered by Simon Heyworth at Super Audio Mastering
---